Kenmerken:
schoonwatertank : 60 liter
opnametank : 65 liter
capaciteit : 2.650 m2/uur
schrobbreedte : 60 cm (2 borstels)
zuigmondbreedte : 76 cm
borsteldruk : 30 – 45 kg
toerental borstels : 285 TPM
geluidsdrukniveau : 68 dB(A)
gewicht : 113 kg
afmetingen: 135x78x109cm
werkduur: 3,5 uur (Li-Ion)
Standaard accessoires:
inclusief borstels, padhouders, Li-Ion batterij en ingebouwde lader 24V

Smart Floor Solutions B.V.
Lübeckstraat 16
7575 EE Oldenzaal
The Netherlands
Tel: +31 (0)85-7731107
[email protected]
Full-service operational lease voor een vaste prijs per maand!
De ICE I24BTL i-Synergy schrobzuigmachine is dé beste machine voor retailers! Het schrobdeck van 60cm komt iets uit het chassis waardoor er makkelijk langs supermarktschappen kan worden gereinigd! De i24 BTL is één van de slimme ICE schoonmaakmachines met SMART technologie, waardoor professioneel schoonmaken nog efficiënter wordt. De ICE I24BTL schrobzuigmachine beschikt over het 'i-Synergy' systeem dat relevante informatie uit de schoonmaakmachine leest en per e-mail naar de eindgebruiker stuurt én real-time te volgen is via web/App. Denk aan informatie zoals de werkduur, welke gebruiker, laadtijd, hoeveel is er gereinigd en of alle belangrijke elektrische delen goed werken. Op deze manier heeft de eindgebruiker altijd up-to-date kennis over het functioneren van de ICE schrobzuigmachine op de werkvloer. Deze machine heeft een aandrijfmotor voor tractie voor- en achterwaarts!
De i24 BTL, de ideale machine voor supermarkten.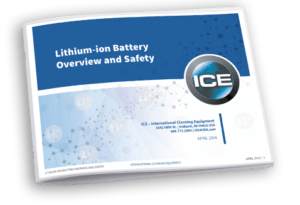 Dit model schrobzuigmachine van ICE heeft een schoonwatertank van 60 liter inhoud en is speciaal ontworpen voor gebruik in de professionele schoonmaakbranche en retail; grote winkels, supermarkten tot 2.500 m2, promenades etc.  De druk op de borstel is maximaal 45 kg waardoor een optimale reinigingsprestatie kan worden gegarandeerd. Eveneens is het handig dat de lithium-ion batterij vanuit de schoonmaakmachine is op te laden met een 'on-board' batterijoplader; óók tussentijds opladen is géén probleem voor de Li-Ion batterij! De levensduur is lang!  In totaal is met de ICE I24BTL 2.650 m2 vloeroppervlak per uur schoon te maken. Snel en efficiënt vloeren schrobben en zuigen kan met machines van ICE.
De belangrijkste eigenschappen van I24 BTL i-Synergy:
Standaard Lithium-ion batterij met 3 uur capaciteit.
Gebruiksvriendelijke bediening en eenvoudig besturingspaneel.
Dé machine voor supermarkt, bouwmarkt en winkels.
Aandrijving voor- en achteruit.
Maximaal 45 kg borsteldruk en ruime watertank van 60 liter.
Eenvoudig verwisselen van zuigrubbers.
Machine is te traceren op via GPS en/of Wifi via App.
Een werkcapaciteit van 2.650 m2/uur.
Flexibel lease vanaf € 7,00 per dag excl. BTW (48 maanden full-service).
Wilt u deze machine leasen?
Vraag vrijblijvend de leaseprijs op door onderstaand formulier in te vullen.
Smart Floor Solutions
Dé samenwerkings- en adviespartner met uitgebreide kennis van en ervaring in hoogwaardige oplossingen voor ieder vloeroppervlak. Wij zijn een aanbieder van professionele schoonmaakmachines.
Onze locatie
Lübeckstraat 16
7575 EE Oldenzaal
The Netherlands
Openingstijden
ma – vr: 7:30 – 17:00 uur
za & zo:  gesloten