Kenmerken:
schoonwatertank : 100 liter
opnametank : 120 liter
capaciteit : 3.250 m2/uur
schrobbreedte : 81 cm
zuigmondbreedte : 118,5 cm
borsteldruk : max 54 kg
toerental borstels : 210 TPM
geluidsdrukniveau : 68 dB(A)
gewicht : 310 kg
afmetingen: 158x119x113cm
werkduur: 3,5 uur (Li-Ion)
Standaard accessoires:
inclusief borstels, padhouders, accupakket (Li-Ion) en ingebouwde lader
Overzicht Machines

Smart Floor Solutions B.V.
Lübeckstraat 16
7575 EE Oldenzaal
The Netherlands
Tel: +31 (0)85-7731107
[email protected]
Full-service operational lease voor een vaste prijs per maand!
De ICE i32 BTL i-Synergy is de grootste industriële achterloop schrobzuigmachine van ICE. Het dubbele borstelsysteem met een werkbreedte van 810 mm zorgt voor extra schone vloeroppervlakken. Dankzij de ruime watertank van 100 liter en de maximale borsteldruk van 54 kg is de ICE i 32BTL zeer geschikt voor het reinigen van grote vloeroppervlakken. Denk aan de vloeren van grote warenhuizen, supermarkten, fabriekshallen en stationshallen. De Lithium-ion batterij heeft een grote capaciteit en mag tussentijds, ook na kort gebruik, gewoon opgeladen worden.
Slimme 'i-Synergy' technologie voor betere prestaties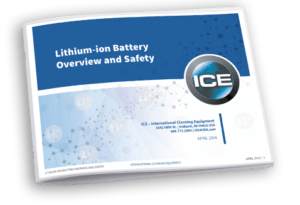 De ICE I32BTL schrobzuigmachine bevat de innovatieve i-Synergy technologie, waarmee de schoonmaakmachine op afstand te managen is. Met de real-time status is deze machine te volgen via web/App. Denk aan informatie zoals de werkduur, welke gebruiker, laadtijd, hoeveel is er gereinigd (m2). En natuurlijk bewaken wij alle belangrijke elektrische componenten goed. Op deze manier heeft de eindgebruiker altijd up-to-date kennis over het functioneren van de ICE schrobzuigmachine op de werkvloer. Deze machine heeft een aandrijfmotor voor tractie voor- en achterwaarts!
Belangrijke eigenschappen van de i32BTL i-Synergy schrobzuigmachine:
Standaard een Lithium-ion batterij.
Dubbel borstelsysteem met werkbreedte van 810 mm.
All-inclusive lease: onderhoud, onderdelen en tussentijdse storingsbezoeken inbegrepen! Geen extra kosten.
Gebruiksvriendelijk besturingspaneel met variabel toerental.
Maximale borsteldruk van 54 kg (middels elektrische borstellift)
Grote schoonwatertank van 100 liter.
Verschillende standen van borsteldruk (18 kg, 36 kg, 54 kg)
Vertraagd uitzetten van de vacuüm motor (5 seconden).
Machine is te traceren op via GPS en/of Wifi.
Grote werkcapaciteit van 3.250 m2/uur.
Flexibel leasen 12 t/m 48 maanden.
Deze ICE i32BTL wordt alleen geleverd op basis van full-service operationeel lease (prijzen zijn op aanvraag).  Vraag één van onze adviseurs om meer informatie of vraag een vrijblijvende lease offerte aan.
Proefmaand of demonstratie?
Om de schrobmachines en het i-Synergy systeem goed te kunnen beoordelen is het belangrijk dat u de proef op de som neemt! Wilt u een proef of DEMO? Vraag die via onderstaand formulier aan!
Wilt u deze machine leasen?
Vraag vrijblijvend de leaseprijs op door onderstaand formulier in te vullen.
Smart Floor Solutions
Dé samenwerkings- en adviespartner met uitgebreide kennis van en ervaring in hoogwaardige oplossingen voor ieder vloeroppervlak. Wij zijn een aanbieder van professionele schoonmaakmachines.
Onze locatie
Lübeckstraat 16
7575 EE Oldenzaal
The Netherlands
Openingstijden
ma – vr: 7:30 – 17:00 uur
za & zo:  gesloten